:: Obits ::
- This Page Honors People I Feel Made A Difference Within The Musical Instrument Manufacturing Industry -
Disclaimer: I did not check any sources for the validity of any information on this page. Therefore, neither I or Futara Electronics will be held responsible for any false, misleading or exaggerated verbiage. Credits are listed - I did not write any of these articles (except for the Sam Hutton anecdote). Everything I have read and posted leads me to believe that all was written in good faith and in the spirit of the person involved.
Click on an Honor!
* * *
(The following article was taken from "The Free Information Society" web page - it has been reprinted here should this article disappear from this link. This article was written by: Frank Stroupe - date unknown)
Leo Fender Biography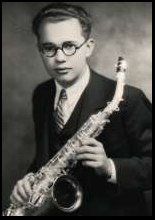 Photo / Image Credits : Unknown
Clarence Leonidas Fender was born on August 10, 1909, to Clarence Monte Fender and Harriet Elvira Wood, owners of a successful orange grove located between Anaheim and Fullerton, CA.
From an early age, Leo showed an interest in tinkering with electronics. When he was 13 years old, his uncle, who ran an automotive-electric shop, sent him a box filled with discarded car radio parts, and a battery. The following year, Leo visited his uncle's shop in Santa Maria, CA, and was fascinated by a radio his uncle had built from spare parts and placed on display in the front of the shop. Leo later claimed that the loud music coming from the speaker of that radio made a lasting impression on him. Soon thereafter, Leo began repairing radios in a small shop in his parents' home.
In the spring of 1928, Leo graduated from Fullerton Union High School, and entered Fullerton Junior College that fall, as an accounting major. While he was studying to be an accountant, he continued to teach himself electronics, and tinker with radios and other electrical items. He never took any kind of electronics course while in college.
After college, Fender took a job as a deliveryman for Consolidated Ice and Cold Storage Company in Anaheim, where he later was made the bookkeeper. It was around this time that a local band leader approached Leo, asking him if he could build a public address system for use by the band at dances in Hollywood. Fender was contracted to build six of these PA systems.
In 1933, Fender met Esther Klosky, and they were married in 1934. About that time, Leo took a job as an accountant for the California Highway Department in San Luis Obispo. In a depression government change-up, Leo's job was eliminated, and he then took a job in the accounting department of a tire company. After working there six months, Leo lost his job along with the other accountants in the company.
So, in 1938, with $600 dollars he borrowed, Leo and Esther returned to Fullerton, and Leo started his own radio repair shop, known as "Fender Radio Service". Soon thereafter, musicians and band leaders began coming to Leo for PA systems, which he began building, selling and renting, and for amplification for the amplified acoustic guitars that beginning to show up in the southern California music scene, in big band and jazz music, and for the electric "Hawaiian" or "lap steel" guitars becoming popular in country music.
During WWII, Leo met Clayton Orr "Doc" Kauffman, an inventor and lap steel player, who had worked for Rickenbacker Guitars, a company that had been building and selling lap steel guitars for a decade. While with Rickenbacker, Kauffman had invented the "Vibrola Tailpiece"...the precursor to the later "vibrato" or "tremolo" tailpiece. Leo convinced Doc that they should team up, and they started the "K & F Manufacturing Corporation", to design and build amplified Hawaiian guitars and amplifiers. In 1944, Leo and Doc patented a lap steel guitar, that had an electric pickup already patented by Fender. In 1945, they began selling the guitar, in a kit with an amplifier designed by Leo.
By the beginning of 1946, Leo had decided that building and selling musical instruments and amplifiers would be much more profitable than repairing them. Doc was unconvinced, pulled out of the company, and they parted ways. Leo changed the name of the company to "Fender Electric Instrument Company", and specialized in Fender lap steel guitars, and amplifiers.
Early in WWII, it was clearly shown that electric circuits had to be rugged to withstand the rigors of military use. Leo realized that amplifiers should be similarly rugged to withstand the abuse they would receive by traveling musicians, so he designed Fender amplifiers to be extremely rugged. During 1946, Fender designed and began manufacturing the Deluxe, the Professional, and the Dual Professional, along with the Princeston, a 4-watt practice amp. Pushing from 18 to 45 watts, these were easily the most powerful amplifiers commercially produced. With heavy steel chassis, chromed control plates, and heavy pine cases covered with tweed fabric, Fender amps caught on immediately. In 1948, Fender began the "Champion" series of practice amp, which eventually was called "The Champ" and became the most popular amplifier built.
Also in 1948, engineer George Fullerton was hired by Leo, beginning a partnership and friendship that would last for more than 40 years.
By this time, all commercially available amplified "spanish style" (non-lap styled) guitars were acoustic guitars with pickups added. Rickenbacker had designed a spanish styled guitar made of bakelite, a predecessor to plastic, in 1935, and surely Leo was aware of its existence from Doc Kauffman. 15 miles from Fullerton, inventor and guitarist Les Paul was experimenting with a solid body "spanish neck" electric guitar he eventually called "the log". But, it pretty much has been accepted that Leo got the idea for designing a solid body spanish styled electric guitar from country guitarist Merle Travis, who had designed a solid body electric guitar and had one built for him by Paul Bixby, another southern California lap steel builder.
In 1948, Leo Fender began work on a solid bodied spanish style electric guitar. In the spring of 1950, the first commercially available, mass produced, solid bodied spanish styled electric guitar was introduced, the Fender Esquire. The Esquire had one pickup; the body was one solid piece of ash wood; the neck was one solid piece of maple wood without a truss rod inserted, and was bolted onto the body instead of the traditional method of gluing the neck to the body; the tuning heads were located all on one side of the neck, and were designed in a way that the strings were parallel to the body of the guitar from the tuning head to the bridge. The Esquire had a tone selector switch, a volume knob, and one tone knob. It was available it two colors, black with a white scratch plate, and semi-transparent "butterscotch blond" with a white scratch plate. Most early models were of the latter color.
In June, 1950, Fender added a two-pickup model of the Esquire, and in November, it acquired a neck truss rod, and was renamed the "Broadcaster". In early 1951, Gretch Musical Instrument company sent a telegram to Leo, complaining of his use of the name "Broadcaster", as Gretch had a line of drums called "Broadkaster". Fearing legal action, and being a newcomer to the musical instrument industry, Leo immediately stopped putting the name label on the Broadcasters until he could come up with a suitable new name. The guitars manufactured in this interim period are now known as "nocasters" and are rare and extremely desired. In late 1951, Leo changed the name to "Telecaster", to relate the guitar to the new and increasingly popular medium of television.
The Esquire, Broadcaster, and Telecaster caught on quickly, mostly with country music guitarists...probably because country music was extremely popular in southern California at the time. Within a year or two, the Chicago based blues guitarist Muddy Waters could be seen playing one. Its distinctive "twangy" sound became a standard for country music, and remains so today. The Telecaster of the 2000's is relatively unchanged from the original Telecaster.
The "upright bass" or "double bass" was a problem for most bands. It is large, unwieldy, hard to successfully amplify, and is easily damaged. The first solid bodied fretted electric bass guitar was introduced by Audiovox in 1935. It really never caught on, obviously due to the lack of proper amplification. In late 1951, Fender introduced the Precision Bass, a single-pickup solid bodied bass guitar with a 34" scale. With a fretted neck, and a double-cutaway body, the bassist was able to play "with precision", hence the name. In early 1952, Fender introduced "The Bassman" amplifier, a 35 watt amplifier designed for the Precision Bass. Author's note: supposedly, the Precision Bass caught on immediately. This early popularity was obviously in Jazz bands, because electric bass isn't found in pop, blues, or rock and roll until 1955-1956. In blues and the earliest rock and roll, the upright bass often served as a percussive instrument as well as a stringed instrument.
Despite the immediate popularity of the Telecaster, there were many guitarists that didn't really care for its signature "twangy" sound, and many guitarists complained of its sharp edges uncomfortably biting into their sides while playing for long periods of time. To answer these complaints, in 1954 Fender introduced the Stratocaster. With three pickups instead of two, a modern shaped, contoured body, reminiscent of the "wings" that were beginning to appear on cars, a "vibrato tailpiece" that allowed the guitarist to "bend" notes, and a name that made one think of outer space, the "Strat" was an instant hit, and eventually became the single most popular electric guitar. The Strat's contoured body style followed over to the Precision Bass.
The Bassman amp went through several changes through the 1950's. In 1958, Fender began using the circuit design designated "5F6-A", and this particular circuit was used through 1960. Though a mediocre bass amp, guitarists loved the tone and power of this amp, and it became much more popular for guitars than basses, Many people considered it to be the perfect guitar amp. In the 1960's, many amplifier manufacturers designed guitar amps based off of this circuit...including Jim Marshall. An amplifier based on the 5F6-A with a few modifications launched Marshall Amplification.
In 1960, Fender introduced the "Deluxe Model" of the Precision Bass. Leo felt that a thinner neck would appeal to jazz musicians, and aid in the transition from upright to electric bass. The body was less symmetrical than the Precision, more like the recently introduced Jazzmaster and Jaguar guitars. The two pickups opposed to the single split pickup on the standard Precision Bass gave it a totally different sound.
The Telecaster, Precision Bass, Stratocaster, and Jazz Bass are testaments to the innovation of Leo Fender. All four instruments have remained extremely popular, and modern versions have changed very little from Leo's original designs. Likewise, Leo's "Tweed" amplifiers are considered by many the best amps ever made, and the originals fetch huge sums of money. Also, in the late 1990's, mostly due to the internet, and the renewed availability of quality vacuum tubes, a new industry began to spring up, boutique amplifiers. Boutique amps are high quality hand built copies of classic amps, and the most popular are the 5F6-A Bassman, the 5F1 Champ (designed by Fender in 1955), the 5E3 Deluxe (also 1955), and the 5E8-A Twin (also 1955). Copies of these amps are also very popularly built by do-it-yourselfers, and kits are available of these circuits by several companies.
Leo worked feverously into the 1960's. He was a workoholic, usually working late into the night, and often working seven days a week. He worked both on the business and R&D sides of the company. By early 1964, he was totally exhausted, and his health was failing. In late 1964, he was approached by Columbia Broadcasting System (CBS), who was looking to get into the musical instrument business. At the end of the year, Leo sold his beloved company to CBS for $13 million. Part of the agreement between CBS and Leo was a "non-compete clause". Leo agreed that he would not participate in the musical instrument industry for 10 years after the sale.
In 1971, Leo, Forrest White, and Tom Walker, formed a new company called "Tri-sonics, Inc". Leo and Tom began designing amps, and Forrest began designing guitars, all carefully designed not to be confused with CBS Fender instruments. Later, they changed the name to "Musictek, Inc", and by January 1974, to "Musicman, Inc". During this time, Leo did not take an active role in the company, and did not until 1975, when it was officially announced that he had been elected president of the company.
Musicman was fairly successful in the beginning, but the late 1970s was a hard time for guitar and amplifier manufacturers. They made rugged amplifiers, and functional guitars with enhanced electronics.
In 1979, Leo's beloved wife Esther died of cancer. He remarried in 1980.
By 1985, the performance of the company was bad enough that Leo left, and the company was sold to Ernie and Sterling Ball.
After leaving Musicman, Leo once again teamed up with George Fullerton, and they formed G & L Guitars. G&L Guitars were styled similarly to Fender's original guitars, with some cosmetic differences, but had much more modern electronics and tremolo systems.
Leo continued to refine the designs he had originally created, and received many patents for his later designs of pickups and tremolo systems, and neck designs.
Leo worked at G&L every day...he actually went to work the day before his death on March 21, 1991...despite having several small strokes and Parkinson's Disease. He remained the same man he had always been, hard working to near obsessive, friendly, unassuming...his coffee cup was a styrofoam cup with "Leo" written on the side with a black marker. This man, who singlehandedly changed the music industry, and did more than any other one person to create the modern electric guitar, though he had taken piano lessons as a child, and played saxophone in the high school band, never learned how to play guitar.
* * *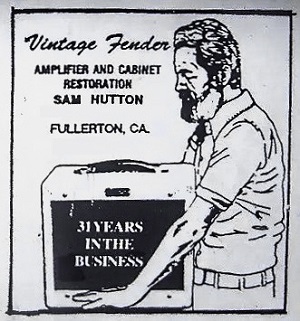 Sticker found inside or on the back of his works - Image Credits : Marty Futara
The Following was posted by: Jim Kroger 1/23/98 - alt.guitar.amps
"I regret to announce that Sam Hutton passed away last Monday after an
illness of several months. His son Bart is carrying on the business.
Sam was an employee at Fender in Fullerton California in Leo's day, and
remained Fender's primary resourse for vintage Fender amp information and
merchandise. In my dealings with Sam, he was always more concerned with
treating his customers right and making sure people had correct
information about vintage Fenders than he was with making a profit. He is
irreplaceable and will be sorely missed.

There will be a memorial service at his home in Fullerton on Wednesday
afternoon. -Jim"
( The following article is anecdotal. Written by: Marty Futara - 12/15/2001 - actually, I recently finished writing this long after...)
"I worked with Leo a long time... (pause) long time...(smiles)" - Sam Hutton
Sam Hutton was the man everyone went to. Everyone - being those who were seeking professional, hand-tailored craftmanship and those who worked in the local electric musical instruments industry. He was pretty well known for his craft and worked very closely with Leo Fender at the the Fender Musical instruments company in the 1960's - and from what I am to understand, into the 1970's as well. When he left the CBS owned Fender company, he continued doing what he did best at his home in Fullerton, California; building musical instrument amplifier and speaker enclosures and covering them with a wide range of tolex and other materials.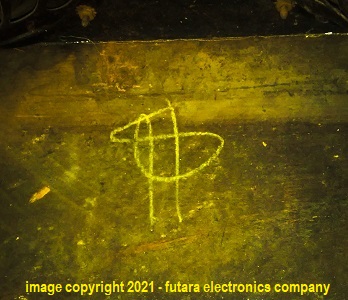 Image of Sam Hutton's Initials "SH" on the bottom of enclosures he finished - Photo Credit : Marty Futara 2021
I had no idea Mr. Hutton had passed until one of my clients I had referred him to had told me. I never knew the man on a personal level but did know him through our sparse business dealings. I would bring him amplifier enclosures now and then and he would effortlessly re-cover them with new tolex within a week or two. His prices were very fair for being "the guy" who originally did almost all of them for Fender. The end result of his labor was always an OUTSTANDING example of this workmanship!
Sam was an interesting man - a very pleasant gentleman. He seemed quiet, humble, warm and genuine to me and I liked that very much. He was taller than I, of medium build and had a salt/pepper beard - he reminded me of a Grizzly-Adams-like man. He would ask me, every time I went to his place, if I wanted to trade anything interesting. We did. He traded me an old tube frequency counter for an even older signal generator I had amongst other clunky items for services and what-not. He loved to trade stuff!
We would talk about Fender amplifiers and the Fender company and he was very quick to correct me on the facts. It seemed important to him that people know the truth about the who, what, where, when and how certain amplifiers were made at the Fender factory. All very good information! I believe he inspired me to treat my clients the same way - assault them with information and make damn sure they know what is correct! He said "I worked with Leo a long time... (he paused) long time...(looked at me and smiled warmly)" Thank you, Sam.
The first time I met him, he enthusiastically gave me the grand tour of his house - I was there almost an hour just listening to him talk about his work and his current projects.
The first thing I noticed walking through his front door (aside from the smell of electronics, wood and glue) was the amazingly HUGE assortment of glass jars and little cans full of metal parts and other goodies on shelves in the living room. On the right side were several finished amplifier enclosures ready for pickup. Further to the left was the kitchen. It was chock-full of small containers holding screws, nuts, bolts and other small bits of hardware EVERYWHERE except the sink. There were items hanging on hooks or nails - freshly painted? - freshly glued? - I wondered to myself but didn't ask. On the counter of the kitchen were more containers of parts - this man was amazingly resourceful! He explained that he would get something and completely disassemble it - placing the "good parts" into containers and holding on to them until needed. He used any bit of everything to help him build and repair other units. It appeared as if he never had needed to enter a hardware store for anything!
The one unit he wanted to show me was a speaker monitor that was covered in black tolex and was cylindrical. It looked like a large, round, duct with the open end pointed at a 30 degree angle from the floor. The open end at the top had a speaker with a black grill and it appeared to be about 12 inches in diameter and squat. He had one completed and put it on the floor - It was ready to use AND had a small metal plate logo. He hooked it up to an amp and played some music through it. It sounded pretty good! He said he was making these as a prototype for someone or some company. They had a very "Fender-like" appearance to them but that was Sam's way of building things.
To the right, through the living room, were the bedrooms and each one had a mass of parts, enclosures and rolls and rolls of colored tolex and grill cloth - a massive inventory - everything anyone would ever need to restore any amplifier or speaker cab. The walls had pictures and amp grill clocks he made. All were for sale and he tried to sell me one for $40. I should have bought one - Darn-it!
We walked into the back yard area and there was even more interesting goodies - piles of wood, metal and more rolls of tolex - different colors.
I have to say the most memorable section of the house had to be the garage - just as you come up to the front door from the street on the right. There, is where all the action was! I had never seen a hide-glue machine like that one! It was reminiscent of what I imagined "The Mangler" would have looked like out of a Stephen King novel. The glue in it emitted a pungent odor (which had assaulted my senses!) and was bubbling and HOT and there was a turning roller where Sam would spread the glue onto the back of the tolex. It made a hum/rattle noise! That garage was loaded with hanging stuff! WOW! Enclosures, frames, wood parts, grill baffles EVERYWHERE - I felt like a kid in a candy store! All freshly made or remade. He showed me some other projects he was working on for Groove Tube Duo Series amplifiers and some rack mount enclosures that had that "Fender Tweed" look to them as well - of course, there were many amp grill clocks in the works.
I am going to miss Sam Hutton, not because he provided an excellent and irreplaceable local service to all of us, but mostly because he loved to "talk shop" and when he did, you can't just stop listening to his stories and "how-to's". I completely admire the passion he demonstrated for his craft and hope to retain that same spark within myself in my later years of providing service to my clients. Rest in peace, Sam.
* * *
(The following article was taken from the LA times web page - it has been respectfully reprinted here should this article disappear from this link. This article was written by: Randy Lewis - July 8, 2009)
George Fullerton dies at 86; musician helped Leo Fender create his unique guitars.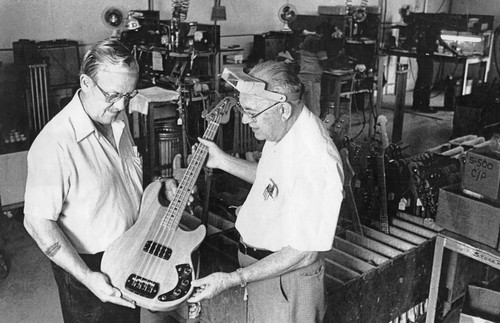 Photo By: Robert Lachman / Los Angeles Times
George Fullerton, left, and Leo Fender examine a guitar at their Fullerton manufacturing plant.
Fullerton was charged with making the Telecaster and Stratocaster electric guitars practical for mass production.
By Randy Lewis - July 8, 2009
George Fullerton, a longtime associate of Leo Fender who played a crucial role in the electric-guitar innovator's extraordinary success through his broad-based skills as a musician, artist and technician, has died. He was 86.
Fullerton died Saturday of congestive heart failure at St. Jude Medical Center in Fullerton, said his son Geoff.
While Fender tinkered away, coming up with improvements in guitar design that led to the creation of his revolutionary Telecaster and Stratocaster electric guitars, Fullerton was charged with making those innovations practical for mass production in their Orange County factory that opened in the late 1940s. Nearly 1,000 people were working there when Fender sold it to CBS in 1965.
FOR THE RECORD:
George Fullerton obituary: In the obituary in Wednesday's Section A of longtime Leo Fender associate George Fullerton, Leo Fender Gallery curator Richard Smith was quoted as saying that Fullerton made "the machine that threaded the guitar necks." What he actually said was "the machine that fretted the guitar necks." —
"Leo's domain was the lab: innovation, getting ideas together on the conceptual level. George's domain was the shop," said Richard Smith, curator of the Leo Fender Gallery at the Fullerton Museum Center and author of "Fender: The Sound Heard Round the World." Fullerton "made the machine that threaded the guitar necks. He came up with the neck shaper and all these unique tools they used. If Leo had problems, [Fullerton] needed to solve them."
Fullerton's lifelong interest in art allowed him to create sketches of new designs based on his conversations with Fender, whose background was in accounting and electrical engineering.
George William Fullerton was born March 7, 1923, in Hindsville, Ark. He was one of six children in a family in which "everyone was musical," Geoff Fullerton said. "There was definitely a music gene going on there."
Fullerton moved to Southern California shortly before World War II. He picked up technical skills working in an aircraft manufacturing plant during the war, after which he periodically ran into Fender, who ran a radio repair service and retail store.
Fender had begun making guitars -- originally focusing on steel guitars -- and amplifiers with Doc Kaufman (under the K&F brand), but their partnership ended quickly because of differing ideas about how to run the business.
Going it alone, Fender offered Fullerton a job helping with radio repair, but he soon shifted over to provide warranty service on Fender's steel guitars and amplifiers. Fender was as impressed by Fullerton's musical credentials -- he was playing in two bands at night after work -- as by his technical know-how. Fender was confident in his own technical expertise but often hired employees who also were musicians because he could barely play a note, much less a song.
In the late 1940s, various guitar makers were experimenting with ways to amplify the sound of a guitar to allow it to be heard in larger dance halls and ballrooms that featured live music. Fender wasn't the first to come up with a solid-body electric, which could handle a much greater degree of amplification without the sound feeding back, but his innovations in design allowed the instruments to be mass produced affordably -- something no one else had then figured out how to do.
They started working out of Fender's small shop in Fullerton, then expanded to two buildings. The early Fender team also included Don Randall, originally a salesman who became Fender's chief sales and marketing executive. At its height before the sale to CBS, Fender was turning out a guitar a minute from its 27 buildings in Fullerton and Anaheim.
Fender said he never regretted the sale, but he did have reservations about leaving many of his associates behind. Fullerton stayed on for about five years, but was disheartened by what he considered the new owners' bottom-line mentality.
"Quality issues were always at the forefront of his mind," Geoff Fullerton said. "The people at CBS would tell him 'We can save a nickel by doing this,' and his response would be 'Yes, but you'll screw the guy who's playing it.' So immediately there was a conflict there."
He teamed again with Fender at the Music Man amplifier company, creating a new line of guitars, then they created G&L Guitars around 1980.
In recent years, Fullerton had served as a consultant to the Fender Custom Shop in Corona, the company's high-end division that crafts upscale custom guitars for superstar clients as well as meticulous recreations of celebrity guitarists' favorite instruments. "George was very passionate about music, as a lot of the people who worked at Fender were," Smith said. "They thought they were doing something great for musicians, and they were. That whole spirit originated with Leo, that spirit of building better instruments to help musicians."
Besides his son, Fullerton is survived by a daughter, Diane, and two grandchildren. A memorial has been scheduled for 10 a.m. July 25 at the Crystal Cathedral in Garden Grove. Instead of flowers, the family has asked that donations be sent to the St. Jude Memorial Foundation.
* * *

December 13, 1941 – February 16, 2020
NOTE FROM MARTY : The following two posts were RESPECTFULLY reposted here without permission from the authors. This was done for my customers and anyone else who wishes to read about a very nice man I met, did business with and really liked! There is hardly any info on the net about him so, I thought I would remember and honor him this way.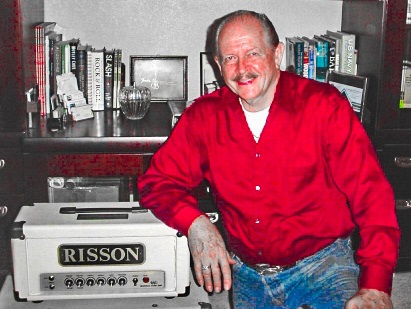 Bob Rissi with a Risson Amplifier - Photo Credits : Rissi Household
The Following was posted by: Bill Wallace, FUHS 1960
"I am saddened to note that my friend Robert (Bob) Rissi passed away during the night of February 15th in Placentia, Ca from cancer. Bob was had a very successful career designing Guitar Amplifiers for Fender and Richenbacker before starting his own company Risson Amplifiers. His clients include the likes of Joe Walsh, Nikki Sixx, Rick Nelson, Slash, and Glen Campbell among others..."
"Who is Bob Rissi?"
The Following was created and posted by: The Man Himself - Bob Rissi (on rissonamplifiers.com)
I was personally hired by Leo Fender in 1961. For the first two years, I worked in the quality control and test department. I had design input on our products, along with personally inspecting and passing many blackface Fender amplifiers.
Bob Rissi : Electronic Product Development Engineer - Original Photo Credit : Fender Musical Instruments - CBS?
In 1964, Forrest White asked me to join Fender's newly formed Research & Development Division. I had already been involved in design changes, and Fender was looking for experienced tube design engineers who also understood solid-state circuitry. I worked for Fender as an Amplifier Design Engineer until 1967.
It was then that I was approached by Francis Hall to become Director of R&D at Rickenbacker where I had complete control to design the Transonic Amplifier Line used by such incredible artists as Steppenwolf, Led Zeppelin and Jeff Beck.
Three years later, I left Rickenbacker and started Risson, where I designed both vacuum tube and solid state amplifier lines. Risson grew entirely by word of mouth, and my amplifiers were used by many artists, not the least of which were: Joe Walsh, Nikki Sixx, Rick Nelson, Slash, Glen Campbell, Lita Ford, Roger McGuinn, Richie Furay, Chris Hillman, Al Perkins, Rick Vito... - and countless others!
Risson Amplifiers, though somewhat unknown to the general public, became a very successful producer of the highest quality amplifiers for famous musicians.
A shift in priorities put Risson on my back-burner for several years while I raised my family and helped pioneer new computer solutions for small businesses. I continued to build and repair amplifiers on a part-time basis, but it wasn't until about five years ago that I began full-time production due to constant demand.
I found a treasure trove of vintage amplifier parts when I reopened my storage facility and started sifting through inventory I had collected as far back as 1960. I am now building the Risson Marvel Tube Amplifiers using mostly vintage parts from the 1960s; the same Astron, Mallory, Ajax, and Ohmite components used in Fender amps of the time period. In addition to crafting new Rissons, I also build and restore Fender amplifiers for my clients.
The same irreplaceable engineering that amplified the music of legendary artists is now available to you. I build each Risson Amplifier by hand so that your music can sound better than it ever has before. I look forward to showing you why making the change to Risson Amplifiers will be the best move you can make for your sound. After all, you deserve the best.
Blessings,
Bob
* * *

Email us with your questions or comments !!
service@futara.com
This page Copyright (except for the articles I [Marty] did not create) 2021 - Futara Electronics Company