The Statocaster Saga
- a tale about the little Mexican Strat that could...
Part 1 - Updated: 07.02.2012
There she was...
So, I walk into a local guitar shop / music store and before I take 4 steps into the place and open my mouth to ask a question, my right eyeball was drawn to a candy apple, metallic-red, pearloid pickguard, 2002 Mexican-made, Fender Stratocaster with a humbucker bridge pickup. The guitar had dull strings and was a little dirty but otherwise in EXCELLENT condition.
I immediately forgot what I was there for (must be that childhood attention deficit syndrome kicking in)... I asked to try it out and plugged it into a small amp. It was like a magnet --- almost love at first note! I played it for a long while. I really liked it! It even sounded punchy and clean with the junky strings -- looked real p-u-u-r-r-r-d-y too! A lot of thinking went through my head...:
"Do I buy it now? - or later - or NEVER - It's a Mexican Strat - aren't they like, a fake Strat? - Kinda' like a Squier Strat? - It's a player though! - Looks Great! --- Oh!, What to do???..."
Dare I say that guitar was one of the better strats I have ever played?!? It was starting to feel that way...
Now, before I get emails stating how much Mexican-made Fender Strats (and Squiers) are sub-standard compared to American made ones, I want you to read this post I found on a BLOG regarding a discussion comparing Mexican and American Strats. Keep in mind that what you are about to read is based purely on someone's opinion (not mine) and NOT FACT. It was typed by a user named "xxxdiablo" and I did not get his or her permission to re-publish it - nor did I correct any spelling or diction errors. I found it after feeling a bit of guilty having those biased thoughts and feelings due to my own ignorance on this subject.
"Straight question / Straight answer.... is the American Strat better? YES.
But... did you know, that the Fender factory in the US is only 30 miles from the factory located in mexico? The materials made in both guitars are pretty much the same now. All the materials for both factories comes from the same place and they share them.
The only reason there is a mexican strat in the first place is price point. In other words... if you can pay a mexican worker $6.00 an hour to build the same guitar as an American who works for $30.00 an hour, you would rather only pay $6.00 an hour and make a bigger profit right?
The problem Fender had when considering this move was that Fender guitars are considered an "American staple". If ALL Fenders were made in Mexico, they would go out of business because their reputation would crumble immediately.
So... what they decided to do was raise the price of the American Strat a bit and then offer a Mexican strat at cheaper price point. They only had to downgrade the electronics a bit in the Mexican strat and hire a few less quality control people there to justify the difference in the price.
The craftmanship of the Mexican Strat MAY be slightly less quality than the American Strat, but the only real major difference (ever since the two factories have moved closer together and share materials) is the electronics.
To begin with, change out the electronics and you will have a decent Strat.
In all honesty... the American factory will always recieve the best quality materials. The necks and bodies are seperated in the warehouse by "first quality" and "second quality". 1st goes to the American Strats and the 2nds go to the Mexican factory. Also... the quality control guys and the finish work in the American factory will do a better job most of the time.
But, if this suggestion makes you nervous, spend the extra money for the American Strat. you can't go wrong. It only cost a little more to go first class in this world.
If you opt for the Mexican, do the following "upgrades" as desired (and as you can afford them) in the following order:
1. Change all of the electronic componants (not just the pickups)
2. Chance the tuners
3. Change the bridge (only if you don't like the one that came with it)
4. Get a really good fret job
5. Buy a better case for your new and improved strat
At the end of the day, you may spend slightly more by upgrading the Mexican Strat than if you were to just buy the American Strat in the first place. But it's sort of like a payment plan. You can pay for the improvements as you are able to afford them.
Bottom line... if you have the money for the American and you want a good guitar for a lifetime, buy the American Strat."
The whole discussion thread can be found here - read it for yourself, I did and found it interesting!: CLICK HERE
Personally, I cannot afford a GEM like an American Fender Stratocaster with ALL the goodies... And yeah, they are expensive (over $1000.00 for a standard model)! But, who is to say that any other Strat (with all the suggested modifications) isn't any better - really - when running your pickups through all kinds of effects anyways --- the only time you will hear a true difference is when you are listening to it through amp --- DEAD CLEAN (body resonance, electronics transparency, etc.).
But, regarding the "first quality - second quality" issue, there is something to be said about the little things --- a one piece body verses a five piece, CTS pots verses import pots, bridgepiece made of brass or steel instead of pot metal, nicely geared tuners instead of crappy ones --- this discussion could go on and on and on. Maybe someday I will get it but for now, I'll just keep using my 1981 G&L F100 (an actual Leo Fender guitar!) because it is all I have ever known to by-far be the best electric guitar for me to enjoy playing.
I ended up buying that red Strat anyways... I figured "what the heck." I considered rebuilding it by purchasing and installing what this person (and others) had suggested (except for the fret job).
Serendipity!!!
After doing a ton of research trying to find out what this guitar actually was, I think I found it! There is NO LISTING for it in any of the Fender catalogs and none of my service literature mentions it except for a couple of standard tex-mex models that are close but no pearloid! I wrote an email to Fender describing what I had and gave them the serial number.
It turns out that this model of guitar was made exclusively for Sam Ash Music Stores. Here is a little blurb about it:
"The Fender 48th Street Custom Strat Electric Guitar is a Strat made exclusively for Sam Ash commemorating their original store in NY,NY..."
"Fender('s) 48th Street Custom Strat Electric Guitar (Candy Apple Red) A Sam Ash exclusive, the 48th Street Custom Strat (named after the legendary "Music Row" in New York City) is a custom-designed Fat Strat with one screaming Tex-Mex Humbucking Pickup and two Tex-Mex Strat® Single Coils for an incredible variety of tonal combinations. A five-way tone selector switch is standard. The Candy Apple Red finish is complemented with a 3-Ply White Pearloid pickguard..."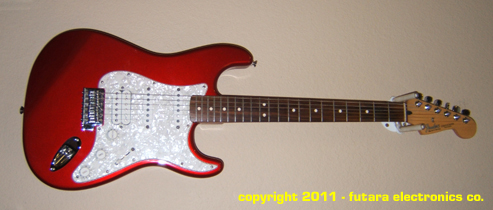 You can read the info at this link!
Interesting... No wonder it looked and sounded pretty good! Hmmm... --- very well worth what I actually paid for it! (BTW - I took off the tremolo arm that came with it and locked down the bridge with a wood block --- I am not a big fan of tremolo.)
Sadly, it does have imperfections that are truly "second quality." There are hairline cracks near the neck pocket / body joint --- they are lacquer cracks --- not wood --- or at least after removing the neck and inspecting the pocket, I didn't see any wood cracks. This may be due to not completely or properly sanding the paint and lacquer out the pocket area before mating the neck to the body OR possibly due to previous over-tightening --- OR maybe some careless ding-dong dropped it! There are other small quirks as well but, who cares! It is still in good condition and a player!
After some clean up, new strings, lubrication, minor electronic changes (for the better), trem lock-down, bridge intonation, string height adjustments (set to 5/64th" above the top edge of the 12th fret to the bottom of the string) and truss rod adjustments, it REALLY plays great --- WOW! What a difference!
Technical Information about this guitar:
Model: 48th Street Custom Stratocaster
Serial Number: MZ2xxxxxx --- 2002 model (serial number not shown out of respect for the current owner)
Series: Traditional
Status: DISCONTINUED
Part Number: 0133700509
Body Style: Universal
Body Wood: Poplar Body (possibly multi-piece)
Neck Type: 4 Bolt – bolt on type
Neck Wood: Maple with 21 Fret Rosewood Fingerboard
Machine Heads: Fender/Ping Standard Style Tuning Machines
Pickups: 2 Single Coil Tex-Mex, 1 Standard Humbucker (HSS Mexi Strats – AKA Tex Mex)
Controls: Five-way tone selector switch – CTS Potentiometers
Bridge Type: Tremolo with chrome block saddle upgrade (locked down with a wood block in the tremolo cavity)
Scale Length: 25.5"
Hardware: Chrome
Pickguard: 3 ply parchment, White Shell - Pearloid
Width at nut: 1.66"
Neck Radius: 9.5" (241mm)
Body Color: Candy Apple Red "Number 05"
Made in: Mexico
Modifications:
Check out these pictures regarding a couple of additional enhancements to this guitar to make it an even better player but still hold it's core appearance. Having a stock guitar is OK but really, if you are going to play it, make it useful (and nicer)!
First, things, first... I never liked those folded metal string guides --- they really appear junky to me so, why not dress up the headstock with ones made for an American Strat!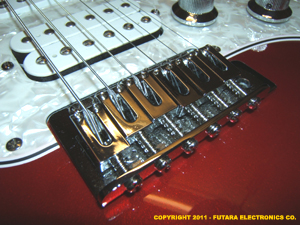 Yeah, I really don't like the look of the original bridge saddles (more folded metal! Ugh!) either so, I replaced them with these chrome ones --- they do look and work nicely! They really do make a difference when setting the string height and intonation.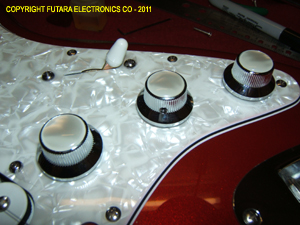 I installed these chrome "flying saucer" pearloid top knobs to replace the standard white skirted ones on the pickguard. I am not so sure I really like them but what the heck. The pearl tops look impressive anyway. I still have the originals to switch out if I decided to ever do so.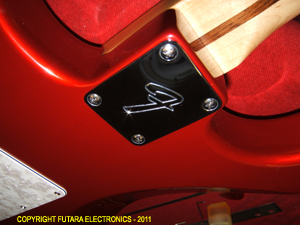 Replacement of the blank neckplate with a classic "F" type is definitely an aesthetic improvement!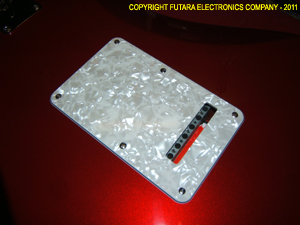 I could not resist installing a matching back cover to the pickguard! Sweet!
--- aaannnddd finally, an authentic Fender traditional all black hardcase to hold this instrument!
Conclusion:
All in all, I have found this experience amazingly educational --- I leaned so much about Stratocasters based on my focus on them. I mean, I knew about Strats to a point but, not like I know them now - and somehow I still feel like I haven't even scratched the surface knowing the entire history of the Fender Stratocaster catalog!
UPDATE:
OH NO! It happened! I hate it when someone sees something I have and shows interest! That is what I get for showing off my new Latina girlfriend!
Stay tuned --- the saga continues...

FUTARA Electronics Company
(714) 535-6201


Write us with your questions or comments !!
service@futara.com
THIS PAGE COPYRIGHT: FUTARA ELECTRONICS COMPANY 2012