Welcome to the
- Vintage Audio and Electronic Musical Instrument Services -
Version: 07.21.2022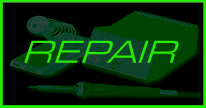 Keyboard on the blink? Amp or Pedal cutting out? Drum machine got ya' beat?
--- CLICK HERE IF YOU ARE ACCESSING THIS PAGE USING A MOBILE DEVICE AND ONLY NEED CONTACT INFO ---
- Quality Service - Reasonable Rates! -
Need to know the TRUE power output of your amp (not marketing Watts)? How about a custom configuration for your pedal board / rack to meet your artistic demands? Would you like to bring out the hidden potential of your gear? Let us check out your equipment for a detailed performance analysis!
Also, we perform factory authorized warranty service on several brands of musical instrument amplifiers and sound reinforcement products. A detailed explanation of warranty procedures and requirements are HERE. We welcome you to call us if you have any questions regarding warranty service on your product.
Check out our listing of items for sale. There are many vintage parts that could be of use to someone, somewhere. We have quite a bit of oddball electronic components and most of it is up for grabs! An in-house inventory of these items are HERE. You may want to check out items we have on eBay as well.
Our technicians will perform selected modifications on a variety of instruments. Although modification of any machine is not recommended (please read "A few words regarding equipment modifications"), you might want an extra input or speaker jack, memory expansion, effects loop, tube amp gain boost, pedal mod, re-pedaling or a custom pedalboard built or maybe some other wacky innovation that gives your equipment a personalized touch! Give us a call and we'll talk about it!
Finally, check out our News and F.A.Q. Sections for the latest information regarding our company and events!
*****
- Who are we? -
We are a small business located in sunny southern California and have been performing service for over 30 years. We maintain, service and repair electronic musical instrument equipment from vintage synth and vacuum tube amplifiers to more contemporary studio recording pre-amps, analog and digital effects, solid-state audio products, and a host of other custom and interesting units!
- What products do we service and repair? -
We are factory authorized to service instruments manufactured by several companies. Warranty service is also available through us for the following manufacturers - NOTE: Brands listed below include units we no longer support that are out-of-warranty. If you need warranty service, we are here to help you! However, we are very selective with which out-of-warranty units we accept or do not accept - see our list of obsolete, discontinued or end-of-life units we no longer support.

FENDER (Vintage Only) * GALLIEN-KRUEGER * KUSTOM * MESA BOOGIE * ROLAND
- and many others!
*****
- What other services do we provide? -
OUT-OF-WARRANTY SERVICE ON VINTAGE UNITS IS OUR SPECIALTY!
Custom Rack Mounting * Pedal Board Wiring and "Re-pedaling" * Analog and Digital Mods * Amp Mods * Custom Electronics Engineering * Studio Hardware Consultation * -- and Much More!
*****
- Need more information? -
FUTARA Electronics Company
Phone: (714) 535-6201
*****
- Hours of Availability -
Monday through Thursday ( BY APPOINTMENT ONLY ) : 10:00am to 5:00pm
Closed : Friday, Saturday, Sunday & Holidays
Lunch: 1:30pm to 2:30pm
*****
Email us with your questions or comments! : service@futara.com
copyright futara electronics company 2023
webmaster - coding credits